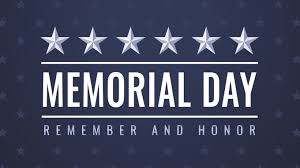 In honor of Memorial Day, Gallia Meigs Community Action will be closing at 2:30pm on Friday May 28, 2021 and will be closed on Monday May 31, 2021. We will reopen Tuesday June 1, 2021 at 8:00am.

Memorial Day was originally known as Decoration Day and honored those who had lots their lives in the Civil War. Following the Civil War, some Americans began holding tributes to the fallen soldiers. It is unknown where the tributes originated as there are different cities which claim to be the first. On May 5, 1868, Major General John A. Logan called for a nationwide day of remembrance stating "The 30th of May, 1868, is designated for the purpose of strewing with flowers, or otherwise decorating the graves of comrades who died in defense of their country during the late rebellion, and whose bodies now lie in almost every city, village and hamlet churchyard in the land."

The first large observance of Decoration Day took place at Arlington National Cemetery. After speeches were given by Washington officials, members of the Grand Army of the Republic along with children from the Soldiers' and Sailors' Orphan Home decorated the graves in the cemetery while singing hymns and reciting prayers for the fallen.

Decoration Day gradually became known as Memorial Day and, following World War I, evolved into a day of Remembrance for those who lost their lives in all wars. In 1971 Memorial Day was officially declared a federal holiday and the date was changed to the last Monday of May.
Sources:
https://www.va.gov/opa/speceven/memday/history.asp
https://www.history.com/topics/holidays/memorial-day-history